The top 10 questions in diabetes & pregnancy
The top 10 questions for research in diabetes and pregnancy have now been identified by hundreds of women, their families and healthcare professionals in the UK: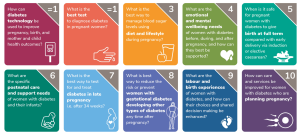 Congratulations to all who took part! We hope that everyone finds at least one of their own priorities reflected in the final top 10.
The priorities will be shared with funding bodies, research institutes and scientific societies to use them as a starting point for deciding future research projects and programmes.
'When these priorities are acted on, we are making sure that research will deliver the most impact and value for women and their families, closing the loop of the process' - Dr Göher Ayman, project co-lead at NPEU
We would like to thank everyone who contributed through the surveys and took part in the final workshop, the PSP funders the Diabetes Research and Wellness Foundation and the University of Oxford (John Fell Fund and Nuffield Department of Population Health), the PSP steering group members and partners Diabetes UK, JDRF the type 1 diabetes charity, James Lind Alliance, and the many people and organisations who supported at various stages throughout the project, without whom this project would not have been successful.