Interim Survey - pick your top questions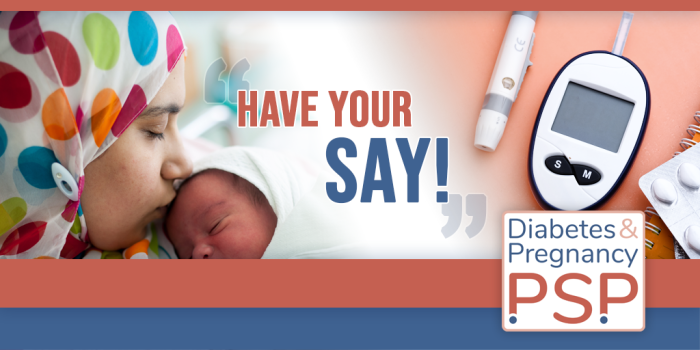 'I hope that by involving those with direct experience of the issue, this project will help to direct funding to the unanswered questions that affect me and many other women.'
Sonya Carnell; diagnosed with type 2 diabetes before her second pregnancy.
Between June and November 2019, women, their families and friends, and healthcare professionals put forward their questions about the time before, during or after pregnancy with diabetes of any type. The project team received over 1100 questions!
From the submitted questions, the team identified a long-list of questions which remain unanswered by research. In this survey, the team are now inviting people to read the questions and pick the ones they feel are most important.
'The questions we are putting forward in this survey are those which people who live with or are concerned by diabetes and pregnancy have told us they would like answers to. They are not from researchers or pharmaceutical companies.'
Dr Goher Ayman, project co-lead, University of Oxford.
A shortlist of the most picked questions will be presented at a final workshop where women, their families, and healthcare professionals will together agree the top 10. The priority research questions will be shared with researchers and funders of health research.
The project will therefore support research that answers the questions of greatest value to women, their families and healthcare professionals.
Take part and have your say!
If you are a woman who has planned a pregnancy, or been pregnant, with diabetes of any type; or have supported someone through this e.g. partners, families, carers; or are a healthcare professional, we want to hear your views.
Please take part by clicking on the image or link below to go to the survey.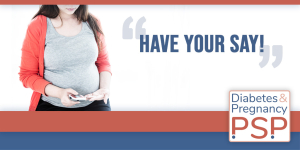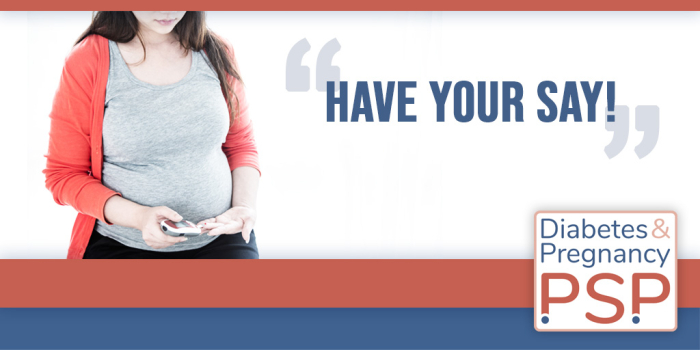 For further information or help with this survey, please contact the team by email at JLAPSP@npeu.ox.ac.uk, phone on +44 (0)1865 289 757, or Twitter @NPEU_JLAPSP