The PRU-MNHC Public Involvement Task Group
The PRU-MNHC Public Involvement Task Group is led by Rachel Plachcinski and Charlotte Bevan, co-leads for public involvement at the PRU-MNHC. It is responsible for supporting the delivery of the Public Involvement strategy for the unit. Researchers Fiona Alderdice, Rachel Rowe and Jenny McLeish are also members of the group.
The Task Group was updated in October 2022 to include new members representing women and families. This was as a result of what we heard from the Listening Series project which we undertook to improve diversity and inclusion in all our public involvement work.
Our expanded Task Group now includes: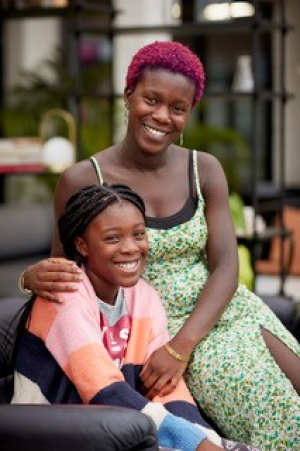 Harriet Williams
Harriet Williams [pictured with her daughter Rose] aims to ensure young parents' needs are included at all levels of policy, charity and research priority setting and that young parents are empowered to engage with work that impacts their lives in all these sectors.
She has featured in mainstream media, focusing on subjects from the digital exclusion of teenage parents; the impact of COVID-19 on ethnic minority groups and the need to close the gender gap.
She co-authored the Young Parents in London: Living with Precariousness report (2018) for Partnership for Young London and 4in10 - a campaign focusing on children living in poverty in the capital and she supported Barnardo's Care-Experienced Parents Unite for Change Project focussing on the absence of parents' voices in Barnardo's research.
Serena Gilzean-Hughes
Serena Gilzean-Hughes has had operational roles within SureStart, Primary Care and the governorship of nursery schools in the East Midlands. Her interests lie in maternal and early years support, with a particular passion for breastfeeding support and empowering parents to make informed decisions around their care during pregnancy and postnatally, as well as around infant feeding.
Serena's expertise in this field has led to her involvement in various research studies focussing on breastmilk composition and maternal health. Serena currently administrates a breastfeeding support group called Yummy Mummies Breastfeeding Group on Facebook which has 3,900 members. She has two children.
Sally Darby
Sally Darby is founder of the online support and community network for disabled mothers, Mums Like Us. The network was created in 2016 following the birth of Sally's second child and now supports upwards of 1,200 disabled mothers.
As a former secondary teacher, Sally is passionate about the role of education in disability awareness. She has a particular interest in the welfare and wellbeing of disabled mums during pregnancy and early motherhood. Sally has spoken and written about disability and motherhood on a variety of platforms including the Women of the World Festival, Pregnant then Screwed Live, on BBC Radio 5Live and in Clemmie Telford's book, But Why? How to answer tricky questions from kids and have an honest conversation with yourself. Mums Like Us can be found on Facebook and Instagram and at www.mumslikeus.org
Sumayya Mulla
Sumayya Mulla has four young sons and is the founder, project co-ordinator, sensory play lead and safeguarding lead for HappyMOMents, a local network supporting mothers and children in North Kirklees, West Yorkshire. The peer-to-peer support group provides social and educational classes for women and children, working in partnership with, and signposting to, other organisations such as the Maternity Voices Partnership, Community Hubs, midwives, health visitors and local schools and nurseries when needed.
Sumayya is particularly passionate about improving maternity experiences for women and families from seldom heard groups from local Black, Asian, minority ethnic, refugee or migrant communities and has supported research to recruit women from these communities. She is also a secondary school Mathematics teacher, GCSE examiner, qualified Optometrist and an avid reader of mystery books