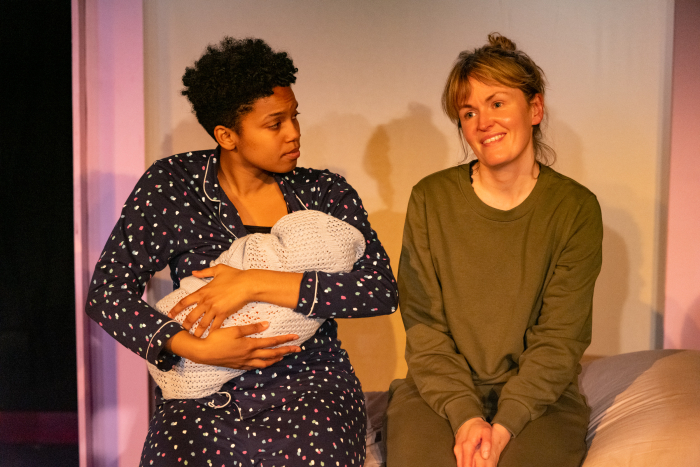 after birth is a play that uses emotion, humour and drama to engage the public with research about maternal mental health produced by the Policy Research in Maternal and Neonatal Health and Care, MBRRACE-UK and the NPEU. It is the product of a four-year collaboration between researchers Rachel Rowe, Fiona Alderdice and Marian Knight , the writer Zena Forster of Maiden Moor Productions, women with lived experience, and the charity Action on Postpartum Psychosis.
Supported by grants from Arts Council England (ACE), the TORCH Theatres Seed Fund, the Public Engagement with Research Seed Fund and others, the play won the North Wall Theatre's Propeller 2020 Award and premiered there in June 2021. Further funding from ACE, City University London, the Sheila Kitzinger Programme at Green Templeton College and others supported a London run and a short tour in February-March 2022. Media coverage included 5-star reviews in BroadwayBaby and The Play's the Thing UK, a TV interview on London Live, articles in Mental Health Today, and a feature on BBC Radio Norfolk.
after birth has taken research led from the NPEU to theatres around the country. In the midst of a pandemic, after birth has been seen by over 900 people. The collaboration continues. The team are working on further funding to develop a film based on the play, and are developing research projects to investigate its potential to be used therapeutically and as the basis of an educational/training intervention for health professionals.
after birth was 'highly commended' in the 2022 Vice-Chancellor's Innovation and Engagement Awards.