Meet the team - Reem Malouf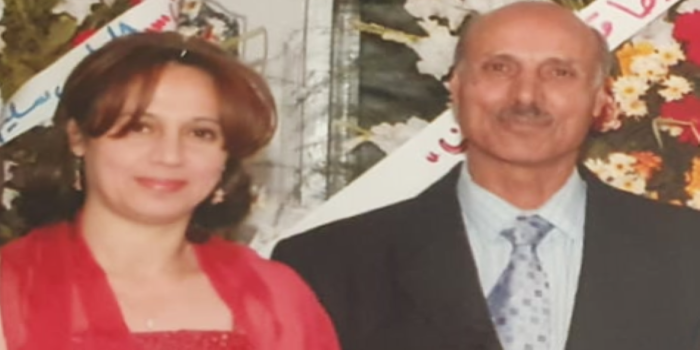 Published on Thursday, 20 October 2022
My name is Reem Malouf and I am a health service researcher at the Policy Research Unit specialising in evidence synthesis and systematic reviews.
I was born in Damascus where I had the best childhood ever, surrounded by the love of my parents and grandparents. I am one of three daughters born in a country where sons are paramount. But my father, the best barrister in Damascus (pictured above, with me at my sister's wedding), believed firmly in the education of women. And so from his house of three daughters came an engineer, a lawyer and a doctor.
I studied medicine and became a neurologist with a desire to do research. I came to England to join a dementia research group. At first I was homesick but my belief in accomplishing something worthwhile kept me going. I then joined a research group at the Cochrane Collaboration, an international organisation which has led the way in developing systematic reviews and led several projects to look at the best available treatments for conditions in blood disorders and cancers. I then became an editor at Cochrane, helping to make sure that Cochrane reviews were carried out to very high standards. I also taught clinicians and researchers how to evaluate and use research, so they can deliver evidence-based medicine.
My next move was to the National Perinatal and Epidemiology Unit (NPEU) where I led a project looking at maternity care for women with physical and mental disabilities. We interviewed women with learning disabilities who normally are excluded from this kind of research. The findings are available at HealthTalk Online. I have also been involved in other projects such as the cognitive and behavioural development of premature babies.
Evidence synthesis and systematic reviews means tracking down all the previous research on a particular topic and combining it to answer a specific research question. This means we can make much stronger recommendations about healthcare than if we carried out just one study, as we have far more people included in our dataset. We can also plan future research to fill gaps in the evidence base.
For example, recently we looked at the proportion of families who developed anxiety or posttraumatic symptoms after their babies were admitted to special neonatal care units. We brought together data from around 6,000 parents, who had taken part in over 40 different studies. This helped us get a clearer picture of how much parents' mental health was being affected so we could highlight that early screening for these conditions is vital.
I am now part of a team looking at which parents are more likely to develop mental health problems after their babies are admitted to neonatal care. We hope the results of this study will help nurses, doctors, midwives and health visitors to recognise the parents who are more likely to be affected, so they can quickly offer the right referral and support.