Our Listening Series guidance for researchers is now live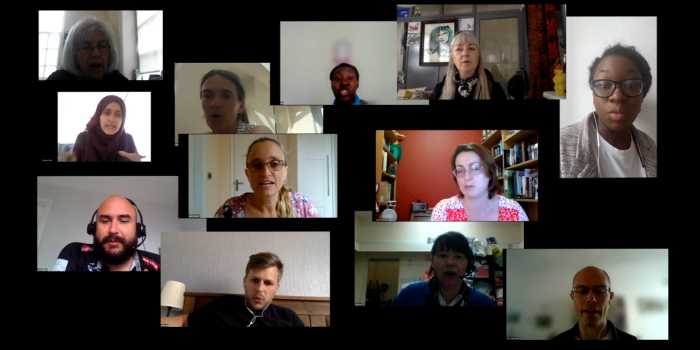 Our Listening Series guidance for researchers is now live on the OxPop website and we're sharing the messages with researchers wherever we can.
We believe that public engagement and involvement in research is essential, but it's also important that it's meaningful and that we don't just hear from the same people all the time. This is partly about fairness and equity but it's also to ensure that research asks the questions that matter most to people when it comes to improving health and healthcare.
In the past, people who were under-represented in research were described as 'hard to reach'. But that begged questions about who was doing the reaching and who was making it hard? Maybe we should be doing things differently?
In the Listening Series we wanted to give our public involvement partners time and space to say what they really thought about why research often doesn't capture the voices of a more diverse group of people. We wanted to hear from women and families affected by social and economic deprivation, those from ethnic minority backgrounds, teenagers, and people with physical or learning disabilities. We also wanted to hear from fathers, whose perspectives are often absent from maternity care research.
We invited 20 people, all of whom work for charities, as individual consultants or as lay contributors to NHS maternity services, to talk to us online in small group discussions about what we should be doing differently to involve and engage people who are currently under-represented in research. The conversations we had over a series of online meetings were frank and insightful and they highlighted five key messages:
Build trust
Relationships are at the heart of all good public involvement and engagement. This is even more important for people who are less likely to be involved in research, who may distrust anything they perceive as being part of the establishment, or who may simply not see the relevance of research to their lives.
Involve people from the beginning
Our contributors told us that they sometimes felt they were only being 'brought out' or contacted when it was convenient to researchers, and that this felt 'exploitative'. People want to be seen as equal partners in the research process, so early involvement in a project is a key part of building trust.
Show impact
People have busy lives and a lot to cope with, but they do want to see change. People told us that they wanted to know how health research might contribute to changing policies and care locally, for their friends, families and communities. This was critical to getting them engaged with research.
Use communications that are appropriate for each audience
Many people feel bombarded by information in their everyday lives. Not everyone we want to involve or hear from is a native English speaker and some have sensory or educational needs. We need to be more thoughtful and innovative in how we communicate, whether it's using animations, infographics or much simpler language to describe things.
Imagine life in our shoes
Research is probably not as important or interesting to women, parents and families as it is to researchers themselves, especially when they have other more pressing priorities like finding a home, a job or support with their children. People told us that we need to think about the pressures on their lives and make engagement, involvement and participation as easy as possible for them.
We will keep talking about what we learnt and building on implementing the learning into our public involvement activities wherever we can.
A huge thank you to everyone who took part, and to the University of Oxford's Departmental Public Engagement with Research Seed Fund, who funded this project.