Optimising Lumbar Puncture Technique in Newborns (NeoCLEAR) – Results Published!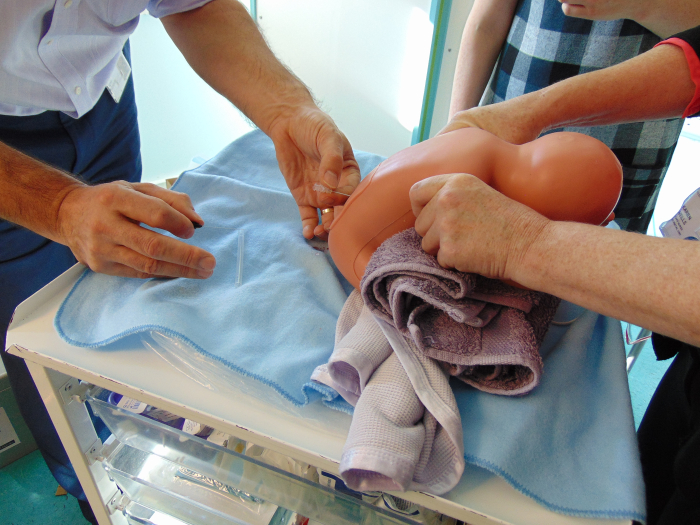 Published on Thursday, 01 December 2022 Tweet
Newborn babies are relatively susceptible to getting meningitis. Lumbar puncture (LP) is an essential test for diagnosing meningitis, which is commonly performed in newborns worldwide, but is technically difficult in this age group. In 50–60%, either no fluid is obtained, or the sample is mixed with blood, making analysis less reliable. Previous studies have suggested that holding the baby in a sitting position could improve LP success rates.
NeoCLEAR (Neonatal Champagne Lumbar punctures Every time – A Randomised controlled trial) is the first large scale trial investigating LP technique in newborns. 1082 term and premature newborns and their families took part. Staff from 21 UK newborn care units and maternity wards identified babies who were due to have an LP. If parents consented to their baby taking part in the trial, the LP technique used was randomly selected, including comparison of sitting versus lying position.
Holding babies in the sitting position was found to be significantly more successful than in the lying position. Babies' oxygen levels and heart rates were also more stable when held sitting up. Sitting position is a cost-neutral, safe, well-tolerated, and easily-learned technique which can improve LP success in newborns. These results strongly support using this technique as standard practice for newborn babies worldwide.
For more information on this trial please read the published results in The Lancet Child & Adolescent Health.