Mental Health Awareness Week: Perinatal Mental Health Matters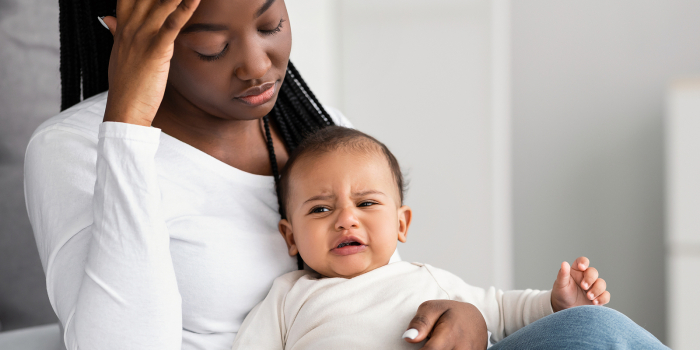 Published on Friday, 13 May 2022 Tweet
Perinatal mental health problems are common complications of childbearing (NMS report) and the leading cause of maternal deaths between six weeks and a year after pregnancy and yet mental health care continues to languish in the shadow of physical health care in the perinatal period. While there is growing awareness of maternal mental health during pregnancy and the year after birth, women with mental health problems still struggle to have their voices heard.

Mental illness during pregnancy and the postpartum is not just about depression – it can include a range of problems including anxiety, post-traumatic stress disorder and postpartum psychosis. There is a shocking lack of information on a number of mental disorders around the time of birth, for example, we know very little about the experiences of women with perinatal Obsessive Compulsive Disorder (OCD). Hollie Burton , one of our DPhil students, will add significantly to our current knowledge through her study on women with OCD's experiences of maternity care and mental health care during pregnancy and the year after birth. It is not unusual for women with mental health problems to experience more than one diagnosis and Rhiannon D'Arcy's DPhil study will provide valuable insights into outcomes of pregnant women with mental health problems who have multi-morbidity.
We also know that the prevalence of common mental health problems may increase depending on circumstances and this has significant implications for the care provided. The latest National Maternity Survey recruited women who gave birth in England during the first wave of the Covid-19 pandemic in 2020. The findings showed an increase in anxiety during pregnancy and an increase in both anxiety and depression in the postnatal period for women who gave birth during the pandemic.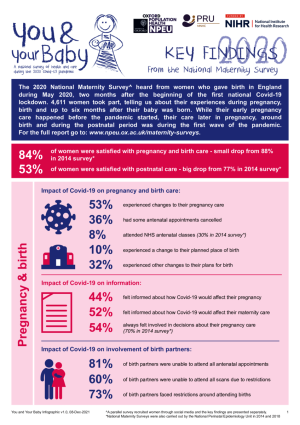 Key Findings from the National Maternity Survey 2020 infographic
It is therefore concerning that compared to our pre-pandemic surveys, the findings also showed fewer women were asked about their mental health after they had given birth.
In addition, some perinatal events may leave parents more vulnerable to mental health problems, for example, parents whose babies were admitted to a neonatal unit. Our recent systematic review included 56 international studies involving over 6,000 parents whose babies were admitted to a neonatal unit. The team pooled the results from all the studies and found the estimated prevalence of anxiety and post-traumatic stress in these parents were much higher than the general perinatal population. Around 40% of parents experienced anxiety or post-traumatic stress symptoms in the month after birth and around 25% experienced these symptoms up to a year after birth. You can read the full review online or listen to a 15-minute podcast discussing the findings as part of the Lancet 'In conversation..' series.
Our systematic reviews also highlight that women from LMIC have higher prevalence of common mental health problems and Gracia Fellmeth's research highlights the need to find reliable ways of identifying women with perinatal mental health problems in LMIC so as not to burden limited mental health resources. Gracia currently holds a Clinical Fellowship from Oxford Population Health for research into common mental disorders in women in India.
We aim to raise awareness and progress our understanding of perinatal mental health through our research and also through innovative ways of communicating our findings. Since 2017, NPEU researchers have been working with playwright Zena Forster, and theatre company Maiden Moor Productions, to highlight evidence about perinatal mental health through the medium of drama.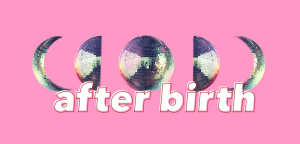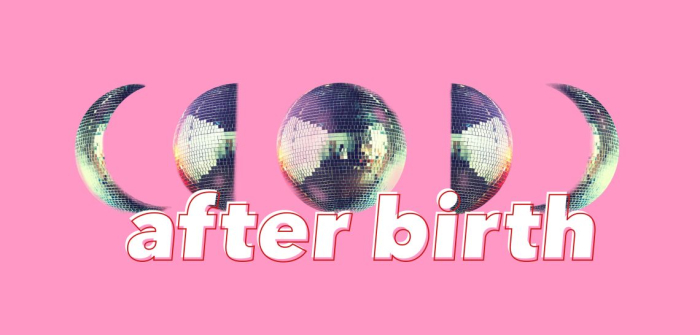 To date the formal evaluation of the play and collaboration has been overwhelmingly positive with the general public, health professionals, women with lived experience and researchers.
Perinatal mental health matters. It is important that we all raise awareness about perinatal mental health. MBRRACE-UK has highlighted a number of red flag symptoms to look out for:

fiona.alderdice@npeu.ox.ac.uk