Almost all pregnant women admitted to intensive care with COVID-19 are unvaccinated, new study shows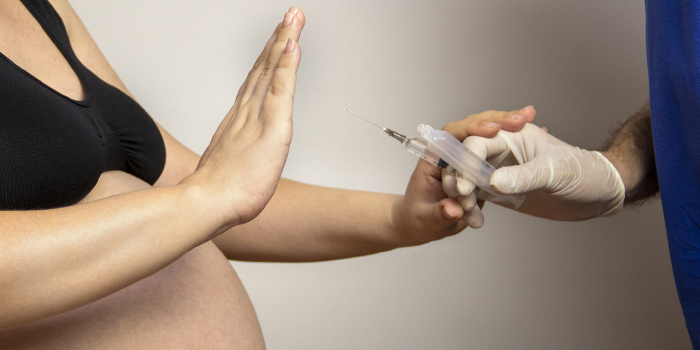 Credit: Bigstock
Researchers urge all governments to prioritise pregnant women as an at-risk group for COVID-19 vaccination
A new analysis led by NPEU and published today in The Lancet Regional Health Europe has found that most pregnant women admitted to critical care with COVID-19 in Europe are unvaccinated. The findings are based on data from the International Network of Obstetric Survey Systems (INOSS), and combined data collected between May – December 2021 for six countries (the UK, Netherlands, Norway, Denmark, Finland and Italy).
The results showed that for all countries, at least 80% of pregnant women admitted to critical care with COVID-19 were unvaccinated. In the UK, the figure was 98%; for Norway, Finland and Denmark, 100% of pregnant women in critical care were unvaccinated. This was despite the fact that the proportion of pregnant women who had received at least one vaccine dose varied widely, from 20% in Italy to 80% in Norway.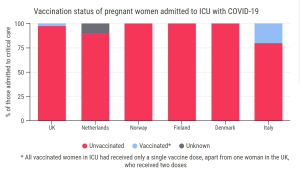 Of the countries analysed in the study, England had the second lowest vaccination uptake in pregnant women, with only 22% having received at least one dose. Despite the UK Government making pregnant women a priority group for COVID-19 vaccination in December 2021, vaccine uptake among pregnant women remains a concern. With the Omicron variant now spreading rapidly, the research team stress that this needs to be urgently addressed, particularly as there is strong evidence that pregnant women are at a significantly higher risk of serious illness compared to non-pregnant women. In addition, severe COVID-19 increases the risk of adverse pregnancy outcomes, including preterm birth, stillbirth and pregnancy loss.
According to the research team, vaccine hesitancy among pregnant women and those planning a pregnancy may be fuelled by conflicting messages and misleading information on vaccine safety on social media. This has been made worse by pregnant women being excluded from most clinical trials of COVID-19 vaccines and medication, despite very clear pre-pandemic guidance. Nevertheless, data from observational studies (collectively over 250,000 women) indicates that COVID-19 vaccines are highly safe for pregnant women, and effective in preventing severe illness. Furthermore, they may also provide additional protection to the foetus, such as transfer of protective antibodies across the placenta.
Although the benefits of COVID-19 vaccination in pregnant women clearly outweigh the risks, in many countries across the world pregnant women are still not a priority group for vaccination (including Italy, Finland and Denmark). Consequently, large numbers of pregnant women in low, middle and high-income settings have yet to receive even a single vaccination dose. The researchers, along with organisations including the Royal College of Obstetricians and Gynaecologists, are now calling for all governments to prioritise pregnant women for COVID-19 vaccines.
Marian Knight, Professor of Maternal and Child Population Health at NPEU, who led the study, said:
These multi-country findings emphasise the message to unvaccinated pregnant women, their partners, health professionals caring for pregnant women, decision makers and politicians that vaccination protects against severe disease. As we enter a new phase of the COVID-pandemic, with the Omicron variant rapidly becoming dominant, booster vaccinations are increasingly important to protect vulnerable groups such as pregnant women against severe COVID-19. We believe that all governments should now prioritise pregnant women as an at-risk group and encourage them to be vaccinated.
Dr Edward Morris, President of the Royal College of Obstetricians and Gynaecologists, said:
We have high-quality evidence to reassure pregnant women that COVID-19 vaccination is safe at any stage of pregnancy, and for anyone planning a pregnancy. This includes the booster dose, which can safely be given three months after the second dose to ensure that a good level of protection is maintained. The spread of misinformation particularly online has significantly added to vaccine hesitancy amongst those who are pregnant, however we agree that if all governments place pregnant women in an at-risk vaccination group, this will send a clear message that the COVID-19 vaccines are safe in pregnancy, and are the best way to protect both mother and baby from COVID-19.