Pregnant women now a priority group for COVID-19 vaccination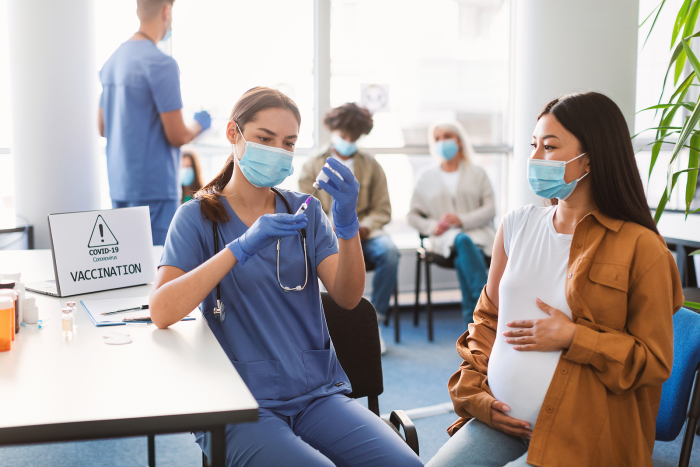 Published on Thursday, 16 December 2021 Tweet
Pregnant women are to be considered a 'vulnerable' group, emphasising the urgency of them receiving COVID-19 vaccination and booster doses, according to a new announcement from the UK Government's Department of Health and Social Care (DHSC).
The announcement is based on new evidence that outcomes from COVID-19 infection for pregnant women and babies have worsened since the Delta variant became dominant. This is based on data from three studies coordinated by NPEU: The UK Obstetric Surveillance System (UKOSS), the British Paediatric Surveillance Unit (BPSU) study of neonatal complications of COVID-19, and the MBRRACE-UK collaboration's maternal, newborn and infant clinical outcome reviews.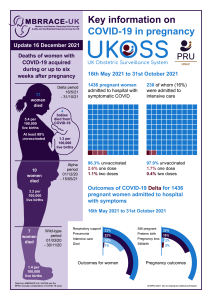 The data from these studies shows that during the Delta COVID-19 wave (16 May 2021 to 31 October 2021):
1436 pregnant women were admitted to hospital with symptomatic COVID-19, of whom 230 (16%) were admitted to intensive care.
17 (1%) pregnant and postnatal women died from COVID-19 (5.4 per 100,000 live births). In comparison, 10 women died during the Alpha period (3.2 per 100,000 live births) and 7 women died during the pre-Alpha 'wild-type' period (1.4 per 100,000 live births).
Four babies admitted to neonatal units died from COVID-19 (1.3 per 100,000 live births).
COVID-19 infection resulted in worse pregnancy outcomes. Of the hospitalised women, 19% had a preterm birth, 2% had a pregnancy loss, and 2% gave birth to a stillborn baby.
Almost all (96%) of the pregnant women admitted to hospital were unvaccinated. Of those admitted to intensive care, 98% were unvaccinated.
Recent data from the UK Health Security Agency shows that COVID-19 vaccines are safe for pregnant women and their babies. There is no evidence that they cause fertility problems in men or women. This clearly indicates that for pregnant women, the benefits of receiving a COVID-19 vaccine outweigh any potential risks from vaccination.
Previously, the DHSC 'strongly encouraged' pregnant women to be vaccinated, but this new announcement means they will be prioritised ahead of others in their age group.
Professor Marian Knight (NPEU), a lead researcher for both the UKOSS and MBRRACE-UK studies, said: 'We know COVID-19 vaccines are safe for pregnant women and are the best way they can protect themselves and their babies from serious illness. These new analyses show that although the Delta variant has caused deaths of both women and their babies, vaccination gives clear protection. With the Omicron variant now spreading widely this additional emphasis on urgent vaccination for pregnant women is extremely important.'
Full information about the UKOSS and MBRRACE-UK reports can be found on the study websites:
UKOSS: https://www.npeu.ox.ac.uk/ukoss
MBRRACE-UK: https://www.npeu.ox.ac.uk/mbrrace-uk