NeoCLEAR have published the protocol of a new study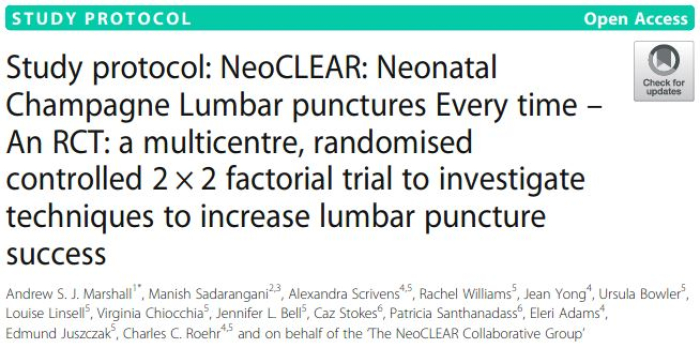 The NeoCLEAR Collaborative Group have recently published the Study Protocol for a randomised controlled 2x2 factorial trial where they are invtestigating techniques to increase lumbar puncture success.
NeoCLEAR: Neonatal Champagne Lumbar punctures Every time – An RCT: The aim of this study is to find out which method is best to achieve a successful lumbar puncture. A lumbar puncture is a procedure which takes a small amount of fluid from the spine through a needle in the lower back. This fluid ('cerebrospinal fluid') is sent to a laboratory to help diagnose conditions such as meningitis.
Sometimes lumbar punctures do not result in a clear sample. Sometimes they have to be repeated. At the moment, different doctors or advanced neonatal nurses use slightly different methods. By finding out what the best method is for this procedure, we could increase the number of successful lumbar punctures. This could reduce the need for repeat procedures and help with more accurate test results and diagnoses. This may reduce stress for the babies and their parents.
You can read the Study Protocol in BMC Pediatrics