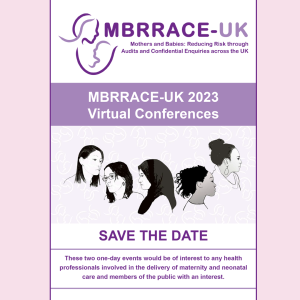 Join us for the 2023 MBRRACE-UK virtual conferences!
Please keep an eye on the website for further details or email the MBRRACE Events Team conference@npeu.ox.ac.uk to be added to the MBRRACE-UK mailing list.
We are pleased to be able to let you know that printed copies of the 'MBRRACE-UK: Saving Lives, Improving Mothers' Care 2022: Lessons to inform maternity care from the UK and Ireland Confidential Enquiries in Maternal Death and Morbidity 2018-20' published on the 10th November 2022 are now available to purchase from our online store for a price of £10 per copy inc VAT and postage.
Buy my copy of the printed report now!
Back copies of the reports are also available to puchase. Further details are available here
If you have any questions please contact the MBRRACE Events Team conference@npeu.ox.ac.uk