Taking part in WHEAT
For your baby to take part in WHEAT they will need to be staying in a neonatal unit at one of our Participating Centres. Babies that meet the inclusion criteria, and who don't meet any of the exclusion criteria, can take part in this study.
Inclusion Criteria
Preterm birth at less than 30+0 gestational weeks+days (up to and including 29+6 gestational weeks+days).
Parents did not opt out of trial participation.
Exclusion Criteria
Packed red cell transfusion with concurrent enteral feeds prior to enrolment (infants who have received a packed red cell transfusion while nil by mouth ARE still eligible).
Infants where enteral feeding is contraindicated in the first 7 days after birth (e.g. congenital abnormalities).
What will happen if my baby does take part?
When the doctors decided that your baby needs a blood transfusion and your baby is being fed milk, we will ask the team looking after your baby to do one of two things. Either to continue feeds as before, or to pause feeds for 4 hours before, during and 4 hours after the blood transfusion. The decision whether to feed or not around blood transfusions will be decided randomly for each baby, so each baby will have an equal chance of being fed or not around their blood transfusions. Once your baby has been allocated a treatment approach, this approach will be used for any transfusion they might need until they reach a gestation of 34+6 weeks+days.
Further information
If you would like more information about the WHEAT trial, please take a look at the WHEAT Parent Information Sheet below: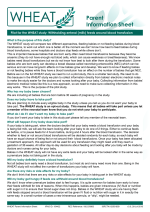 Parent Information Sheet
Support
Bliss is a UK charity working to provide the best possible care and support for all premature and sick babies and their families. You may find the following Bliss website a useful source of information more generally about caring for a premature baby.