Recruitment to the E-Freeze trial is closed.
We would like to thank all couples who took part.
Taking Part in E-Freeze
To be able to take part in E-Freeze, you will need to be receiving IVF treatment at one of our participating centres. Couples that meet the inclusion and exclusion criteria will be able to take part in the study.
To find out more about what it's like taking part in E-Freeze, you can hear a podcast from Julie, who recently took part in the trial.
Inclusion Criteria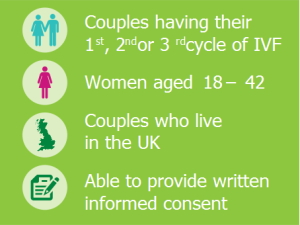 Couples having their first, second or third cycle of IVF
Women aged 18 to 42
Couples who live in the UK
Able to provide written informed consent
Exclusion Criteria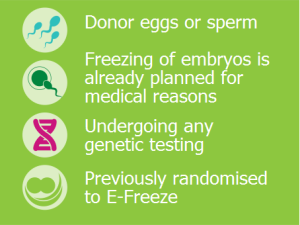 Donor eggs or sperm
Freezing of embryos is already planned for medical reasons
Undergoing any genetic testing
Previously randomised to E-Freeze
Treatments
All procedures used in the E-Freeze study are standard techniques, commonly used in fertility centres. Couples will be randomly selected to receive either fresh or frozen thawed embryo transfer. There will be a 50:50 chance of receiving either treatment.
Fresh embryo transfer
Women will undergo fresh embryo transfer within the first week of egg collection, according to local clinic policy.
Frozen thawed embryo transfer
All good quality embryos will be thawed and arrangements will be made for embryo transfer, this will typically be within 4 to 6 weeks and always within 3 months.
For further information about the E-Freeze trial and what happens if you decide to take part, please see the Couples Information Leaflet and the Couples Flowchart.

E-FREEZE PIL

E-Freeze Couples Flowchart
Useful Information
Further information about fertility can be found from Fertility Network UK and the Human Fertilisation and Embryology Authority.